Browse our Email Marketing help documentation
List Management
Understanding list analytics
To view list statistics, click on the "Manage Subscribers" tab. Click on "view actions" next to the list you would like to see analysis for. From the dropdown actions, click on "View List Statistics".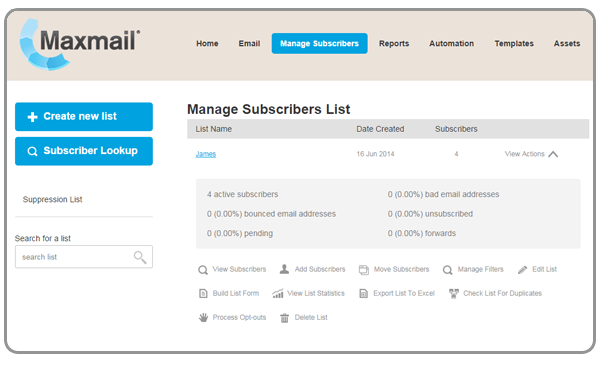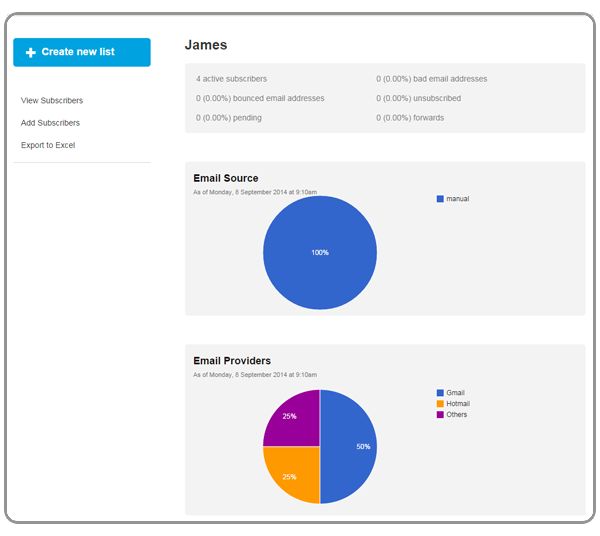 From here you can view statistics about the list. The first box describes a small breakdown of the nature of the email addresses in the list and how many bad emails the list contains. (If your list contains a large number of bounces or bad email addresses, consider using our ListWise product to clean your list. For more information visit: http://www.listwisehq.com/email-address-cleaner/index.php)
The second box contains a chart that displays how the list was imported into Maxmail. Whether it was imported via CSV or manually entered.
The third box contains a chart that displays a breakdown of what major domains the list is made up of.
Need more help?
NZ Toll Free: 0800 121 131
International: (64) 9 309 8288
Australia: (61) 2 9098 8405
Canada: (1) 604 259 1329
United Kingdom: (44) 20 3670 2364
United States: (1) 929 229 4855